Con ABOVE THE TREE e SAMUEL KATARRO il Blues più innovativo e sperimentale sulla scena italiana arriva sul palco del Fanfulla 101!
::----------------------::
MERCOLEDI 11 GENNAIO
ABOVE THE TREE + DJ SET SOUL KITCHEN [Viktor Uolf] & NUTS!LITE VENUE [Francesco Macri]
GIOVEDI 12 GENNAIO
SAMUEL KATARRO + DJ SET SOUL KITCHEN [Viktor Uolf] & [Johnny Hell]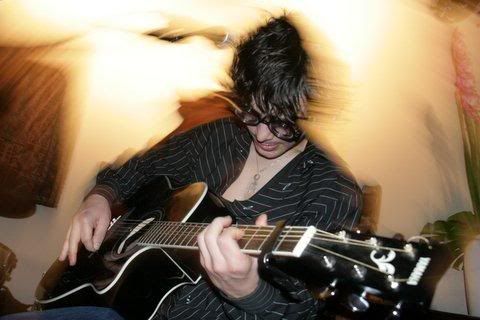 ::----------------------::
DUE NOTTI BLUES in cui emergeranno al Fanfulla due progetti musicali forti, decisi, che contaminano e rinnovano il Blues classico con le sperimentazioni di sonorità psichedeliche nel sound di SAMUEL KATARRO oppure con le commistioni folk e minimal nell'esibizione di ABOVE THE TREE.
In ognuna delle serate, dopo il concerto seguiranno le raffinate e coinvolgenti selezioni Rhythm and Blues di SOUL KITCHEN e NUTS!LITE VENUE, che propongono un dj set rigorosamente su vinile a 45 giri.
::: ABOVE THE TREE :::
Marco Bernacchia alias Above the tree, musicista fin dall'adolescenza, compie un percorso di ricerca sulle potenzialità sonoro/rumoristiche ricavabili dagli strumenti musicali. Spesso le sue melodie rimandano a melodie popolari, strutture folk, richiami all'Africa tribale e al blues delle origini, quasi minimale. Nel marzo 2010 il suo tour tocca diversi paesi europei, consacrandolo a livello internazionale, mentre è in uscita in questi giorni il nuovo album Wild, realizzato con la partecipazione del percussionista Matteo Sideri. Durante i suoi live Above the tree indossa sempre una maschera di cartapesta, che lo trasfigura nelle sembianze di un gallo.
www.myspace.com/bluerevenge1
::: SAMUEL KATARRO :::
SAMUEL KATARRO Un progetto musicale di Alberto Mariotti nato nel 2006, interpretato da Mariotti (vocalist), Wassilij Kropotkin (violino, chitarra, voce) e Simone Vassallo (batteria, percussioni). L'idea iniziale è quella di unire la dimensione acustica scarna ed essenziale dei primissimi bluesmen e folksingers americani e la nevrosi di certa new wave americana degli anni '70 (Pere Ubu, Devo, Talking Heads). Nel 2008 viene pubblicato il suo album d'esordio Beach Party - il progetto ha ricevuto i complimenti di Patti Smith, la "sacerdotessa del rock". Ad Aprile 2010 è uscito il secondo album "The Halfduck Mystery", più colorato e psichedelico, che vanta numerose collaborazioni. www.myspace.com/samuelkatarro
dalle 22.00
ingresso a sottoscrizione 3€
info
www.fanfulla.org